Dry January
Penrhos has you covered…Our zero now £22 
Our Zero Raspberry Non Alcoholic Spirit is the perfect drink for Dry January. Created in our still 'Connie' making a distillate with juniper, corriander, pink peppercorns and our own blueberries. The real magic happens when we mix in our own raspberry juice made with our wibbly wobbly raspberries.
No and Low is no longer for those who abstain, it's full of fun for those who are keen to explore and cutback. To fill their glasses full of flavour, colour and fun and we have the top tipple for you! Now on offer at £22 for the whole of January.
The perfect drink to kick back and relax. Over ice add 50ml Zero and top up with aromatic tonic. Garnish with fresh or frozen raspberries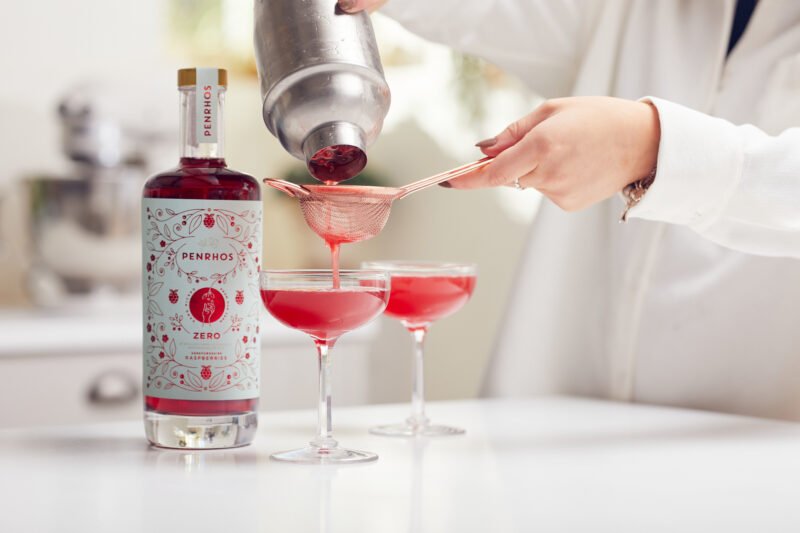 Penrhos Zero Raspberry Cosmo
A cocktail full of colour and flavour and easy to make. Into a shaker add 80ml Zero, 25ml honey syrup, 25ml lime juice, 6 raspberries and a handful of mint. Shake with ice and double strain into a coupe.
Into a shaker add 60ml Zero, 25ml lemon juice, 25ml honey syrup and 6 raspberries and shake well with ice. Pour into a glass full of ice and top uo with soda. Garnish with raspberries and mint to create a refreshing long drink.
For the perfect celebratory drink add a splash of Zero into your favourite champagne glass and top up with non alcoholic sparkling wine.