Penrhos is a family-run business which cares about it's customers. We grow and harvest fruit and crops grown specifically for the production of our amazing Gin and Liqueur. 
For the longest time, we have been gin lovers, the perfect way to unwind after a long day in the fields and one day we just asked ourselves… why not? As lifelong friends, we have always plotted and planned and we realised we had the perfect answer. Our wives Sally and Kate soon realised this was more than a mid-life crisis and joined the team.
Our vision was to create small batch, artisan, cropper distilled spirits using our orchard and farm botanicals, grain spirit and our own natural water.
We don't add any more alcohol to stretch the number of bottles from each run. Whilst not the most economical way of producing Gin it enables us to keep all the best flavours a craft gin should possess.
Our small-batch production uses traditional copper pot distillation, distilled in a 147 litre Carl still called Connie; fondly named after Dickie's grandmother, who used to rear calves in the barn, now used to house the distillery.
With our strong farming roots, our spirits use ingredients carefully grown by us or that are local to our distillery, foraged, found or farmed. From the fragrant blossom of our cherries to the uplifting scent of our blueberries our spirits are evocative of their rural roots with every ingredient carefully selected with reason.
Our fruit is soaked in alcohol for 24 hours which enables all the fruity flavours to be released. The remaining botanicals are then added for a further 24 hours which allows all the fantastic aromas and essential oils to fuse together.
The mixture of botanicals, grain spirit and water from our own farm supply are added to the copper pot and gently heated until the alcohol vapours start to lift, carrying the fabulous flavours of our fourteen different botanicals.
Passing slowly through the copper helmet the alcohol is purified and then cooled and collected. The Heads are removed and the Tails recycled leaving us with the wonderfully tasting Hearts that hold all the magical flavours which are then blended with filtered water to a bottling strength of 40.5% ABV.
We rest the gin for 48 hours before bottling it all in our barn – truly a handcrafted spirit. The process is called Single Shot Distillation.
We don't add any more alcohol to stretch the number of bottles from each run. Whilst not the most economical way of producing Gin it enables us to keep all the best flavours a craft gin should possess.
Our firstborn, a true classic. Our own blueberries, cherry blossom and honey combining with subtle flavours of pink pepper, cardamom and rose petals from the garden to create an extremely smooth fresh and pure gin.
The initial distinctive fresh summer aroma warms the mouth as the Mediterranean juniper stimulates the senses. Light unassuming floral notes lightly cascade through the flavours as the combination of rose petals and cherry blossom come to the fore. Combined with the Herefordshire blueberries, Penrhos Dry gives an exceedingly smooth and rounded finish.
Take one balloon Stem Glass. Fill with plenty of ice. Slowly pour one part Penrhos Dry. Add three parts, Fever Tree tonic water and garnish with pink Grapefruit or blueberries and mint.
Our second born and a match made in heaven (well Herefordshire actually). A gorgeous pink and tangy gin made with 250ml of pure Raspberry Red Rhubarb juice blended with our own Penrhos Dry to create a memorable gin.
A tart burst of fresh rhubarb fills the palette before being replaced with soft citrus and herbal notes that complement the smoothness of our Penrhos Dry.
Take a stem balloon glass and add plenty of ice. Gently pour one part Penrhos Rhubarb and three parts Fever Tree Indian Tonic Water or Ginger Ale. During the summer, garnish with a slice of orange, remove stem ginger and Rosemary.
Penrhos Apple & Elderflower gin
Penrhos Apple and Elderflower is a delicious mix of the delicate notes of hedgerow elderflower and the crisp fruity edge of our own apples creating a light refreshing gin.
This apple and elderflower gin is a delicious British mix of the delicate floral tones of elderflower with the crisp fruity edge of apple, creating a light refreshing gin, delicious simply mixed with tonic.
Serve with Fever-Tree Mediterranean Tonic and a slice of apple. For an extra elderflower kick, use Fever-Tree Elderflower Tonic and garnish with mint.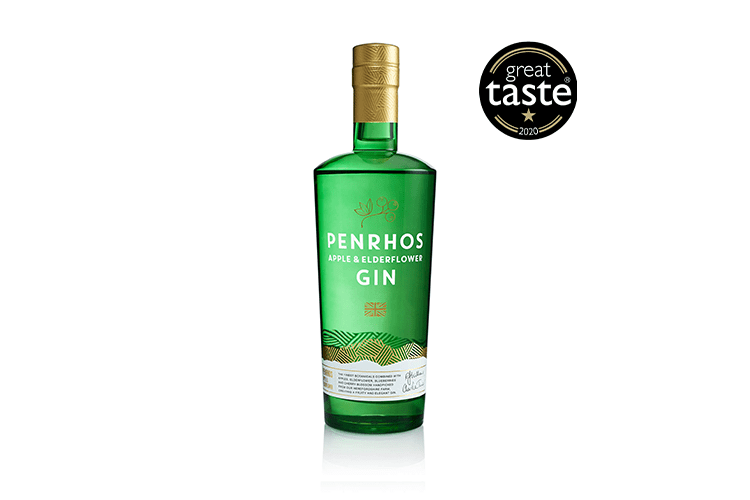 PENRHOS BLUEBERRY GIN LIQUEUR
Made with blueberries handpicked from our fields and infused with our award winning London Dry Gin, this delicious liqueur is bursting with fruitiness and warmth.
A smooth, rich, dark liqueur with a rounded depth of flavour. Serve neat, with tonic or with Fizz.
Distilled and bottled on Penrhos Farm with a specially selected mix of botanicals including our own blueberries and blended with the juice from our farm grown raspberries.
A fresh burst of fruity raspberry and hints of floral tones leaving with the taste beautiful botanicals.
Serve over plenty of ice with tonic, raspberries and mint to create an elegant sophisticated drink.
PENRHOS MINIATURE GIN TRIO
The Penrhos Gin Trio contains three miniature (5cl) bottles of our award-winning range of handcrafted gins.
The set is perfect for sampling our flavours or makes a wonderful gift for any gin lover.