Reducing waste is always at the center of every conversation at the farm and where the initial idea for Penrhos Spirits was born. Over many years Charlie and Dickie had become frustrated with the contestant rejection and waste created by the fruit not being 'perfect' enough for the shop shelves. 
Did you know that 1 in 5 raspberries are thrown away for not being perfect enough? This causes serious concern for Charlie which had sparked a few ideas! 
With the unpredictable weather at the moment extreme heat means a big flush of fruit needing to be picked sooner than expected. We now have 3 tonnes of 'waste' raspberries soaking in alcohol creating something pretty special… watch this space!
Around 5% of blueberries are rejected from the supermarket shelves each year, even though they will most likely taste great. Although this is still a problem for many fruit farmers this means that we have plenty to use in our gins. As one of our key botanicals, they are kept frozen so we can have a contestant supply throughout the year. Although it does not change the flavour it creates an extremely smooth gin which is often noted when tasting our Dry gin neat.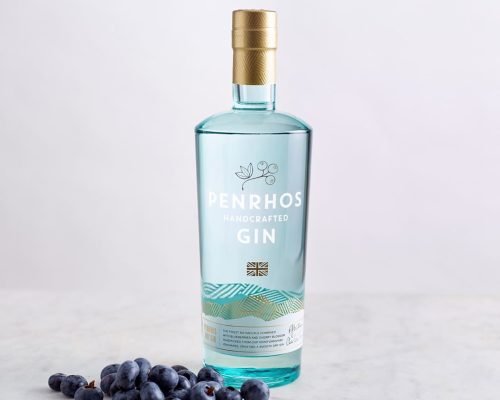 As we strive to become more sustainable and environmentally friendly, we recently launched our 2.5lt pouch. Each pouch has a prepaid stamp and address which will send the empty pouch back to Enval who will recycle the components using microwave energy. Unlike other forms of recycling this will allow the plastics to return to food grade packaging.
This is another step in our ambition to reduce our carbon footprint. On top of this we hope to be able to offer better deals to the hospitality industry by keeping a lid on prices and reducing the number of empty bottles that businesses have to pay to dispose of and which are then pumped full of energy in order to recycle.
We hope this will be a benefit to the environment, hospitality industry and Penrhos.
Please do get in touch if you would like to stock our pouches hello@penrhosspirits.co.uk
How can you help at home?
Grow your garnishes at home. We love to garnish our G&T's with mint, rosemary or basil and these can easily be grown in your garden or even in pots in your kitchen. It also means you always have a garnish to hand! 
Such a simple way to mean you never run out of your garnish again! Freezing blueberries also makes your gin pink… win win!
Chop up your orange, lemon or limes and have them in the freezer ready to add to your G&T.
It is estimated 63 billion single-use straws are used every year. Metal straws are a simple way to create a small step to creating less waste at home. It has been found that you would need to use a metal straw 149 times to abate the emissions of a plastic straw.