World Bee Day is here again on friday 20th may, making it the perfect day to celebrate our wonderful pollinators.
 The most important thing that bees do is pollinate, which makes them essential for helping our fruit to grow. Pollination is needed for plants to reproduce, and so many plants depend on bees or other insects as pollinators.
Once we hit spring and the weather becomes warmer and the bright blossom attracts the bees, the sound of the bees buzzing away in the orchards are absolutely amazing. Today we have over 40,000,000 flowers just in the cherry orchards, so there is plenty of nectar for our amazing bees!
Being fruit farmers means we celebrate our bees every day, as without them we wouldn't have any fruit which would also mean no gin! Our Handcrafted Penrhos Dry Gin uses our wibbly wobbly blueberries and our bees have an important role in pollinating our crops.
Bees have no difficulty extracting nectar from blueberry flowers with their long tongues. This is important because the corolla of the blueberry flower is bell-shaped. Nectar is secreted at the base of the flower, requiring an insect to push its tongue deep between the filaments of the anthers to reach it. Pretty cool huh!
We now have around 25 hives doted along our cherry orchards with plans for many more. These are the perfect homes for bees to live in where they can create their delicious honey. Did you know that bees honey tastes different depending on the plants that they have been pollinating? 
As a community we have been celebrating this day since 2018, thanks to the efforts of the Government of Slovenia that led the UN General Assembly to declare the 20th of May as World Bee Day. Today is important because it provides another bee-rilliant opportunity for us all to raise awareness on the essential role bees play in keeping us and the planet healthy.
For example, did you know that bees are responsible for pollinating 90% of the world's wildflower plants and 35% of the world's food crops? i.e. every third spoonful of food depends on pollination!
We love working closely with Faye and Jake from Beevive who have been on a mission to save the bees after a spontaneous encounter with a tired bee back in 2018 and the Bee Revival Kit was created.
Now is the time to re-think about how we can relate to nature and what actions we can take as individuals to help the bees. So, we have put together a few simple examples to help you get started today:
One of the easiest ways to help bees is to sit back (with a G&T!) and let your garden grow wild. Plant pollinator-friendly flowers that will blossom at different times of the year, using peat-free compost to save wildlife habitat. For example, position grape hyacinths in the sun which provide lots of lovely pollen in the spring for the bees when they flower. In late spring, plant foxgloves and catmint which will bloom in summer to see your bees through the sunny season.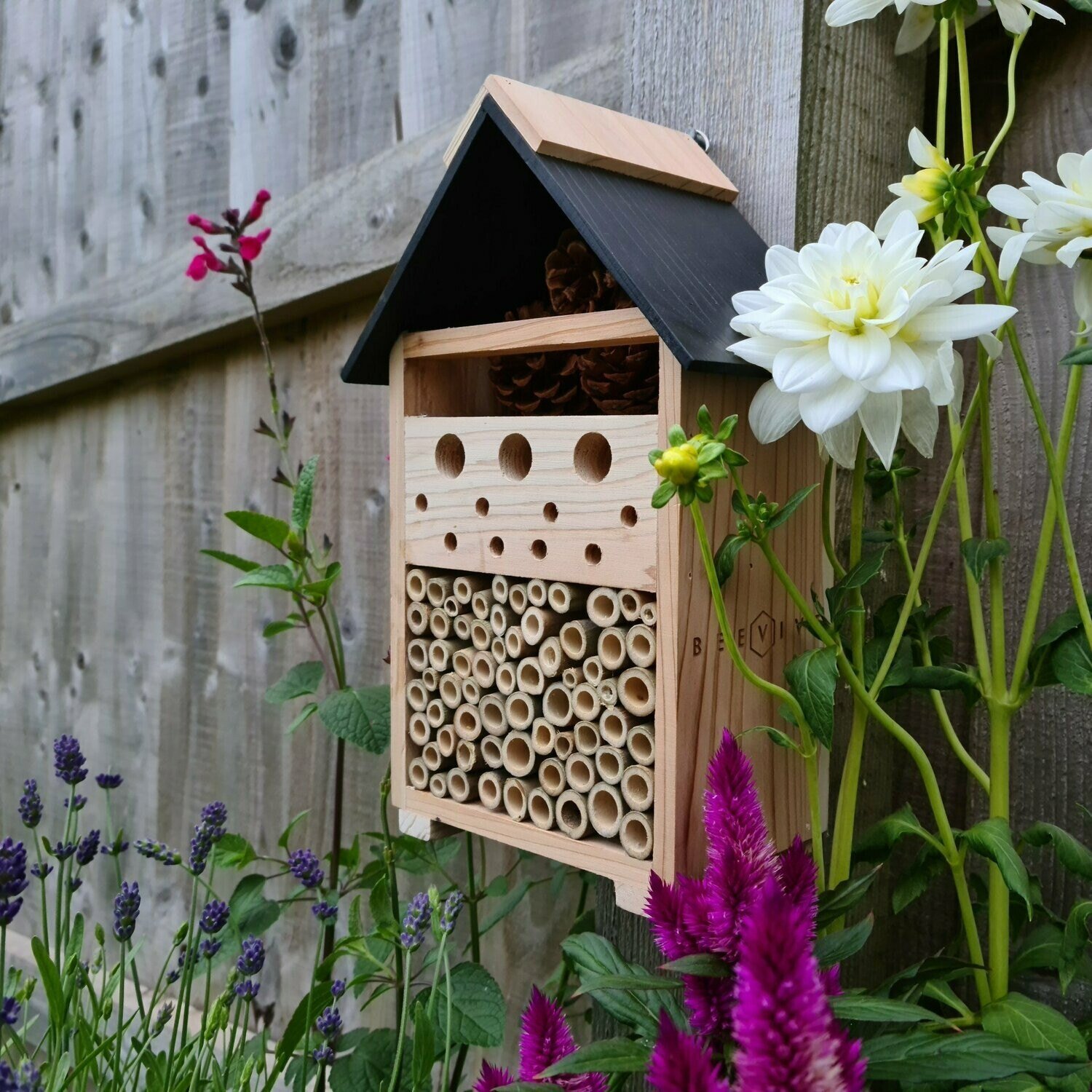 A large proportion of the UK's bees are actually solitary. You can buy or make your own bee hotel to help them along with untreated wooden planks for a box, reeds, bamboo canes and hollow stems for them to rest, nest and lay their eggs in! Fix the bee hotel securely 1-2m above ground level in the sunniest part of your garden and watch the bees go back and forth during the spring and summer months, we promise you won't regret it!
 Create a bee bath
Outside you can leave a little dish of water with rocks for the bees to perch from or if you encounter a tired bee whilst out and about.
Buy a Bee Revival Kit
These are perfect to keep on your keys so you can you can offer the pollinator a drink using your Bee Revival Kit to give the exhausted bee an emergency boost!
Help raise awareness by sharing our article and post your own related videos or photos of your cocktails using the recipes below on your Instagram account with the hashtag #penrhosbees Don't forget to tag us @penrhosspirits & @beevive_uk
50ml Penrhos London Dry 
25ml Lemon Juice
20ml Honey Syrup (50:50 mix of honey & hot water, dissolve and let cool to add to cocktails)

Combine all ingredients into a cocktail shaker, shake well and strain into a cocktail glass for a refreshing tasty drink.