HAPPY WORLD BEE DAY!
Why are Bees so important?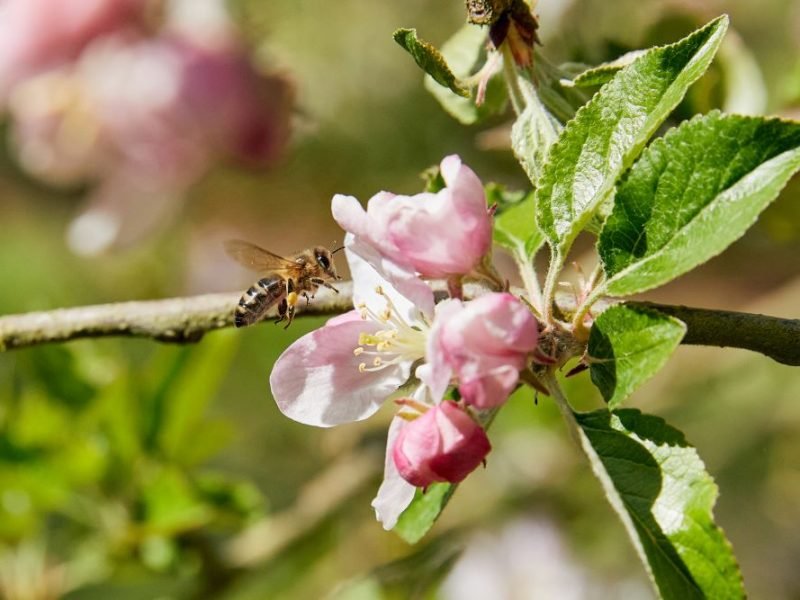 As a community we have been celebrating this day since 2018, thanks to the efforts of the Government of Slovenia that led the UN General Assembly to declare the 20th of May as World Bee Day. Today is important because it provides another bee-rilliant opportunity for us all to raise awareness on the essential role bees play in keeping us and the planet healthy.
For example, did you know that bees are responsible for pollinating 90% of the world's wildflower plants and 35% of the world's food crops? i.e. every third spoonful of food depends on pollination!
Together with our friends at Beevive we are raising a glass (of honey spiced rum!) to celebrate the work they do, collaborating to honour not just honeybees, but bumble bees and solitary bees too for this year's theme Bee engaged: build back better for bees.
For centuries, these tiny hard workers have benefited people, plants, and the environment. As they collect nectar, they simultaneously gather pollen and carry the powder from male to female flower. By doing this they help to create more variety between crops and better-quality yield contributing significantly to our food security.
There are over 20,000 known bee species in the world, however bee populations are under threat. In the UK alone we have lost 13 species since the 1990's and a further 35 bee species are currently in danger of extinction. The known causes of bee decline include pesticides, habitat loss and climate change. This day provides a chance for us all to promote actions that will protect pollinators and their habitats, improve their abundance and diversity, and support the sustainable development of beekeeping in 2021 and beyond!
Why are Bees so important to us at Penrhos?
The most important thing that bees do is pollinate, which makes them essential for helping our fruit to grow. Pollination is needed for plants to reproduce, and so many plants depend on bees or other insects as pollinators.
Once we hit Spring and the weather becomes warmer and the bright blossom attracks the bees, the sound of the bees buzzing away in the orchards are absolutely amazing. Today we have over 40,000,000 flowers just in the cherry orchards, so there is plenty of nectar for our amazing bees!
Our bees are key to a great fruit crop as if the trees flowers are not sufficiently pollinated there wouldn't be any fruit at all and that would also result in no Penrhos Gin or Rum… and how BAD would that be..? 
We now have around 25 Hives doted along our cherry orchards with plans for many more. These are the perfect homes for bees to live in where they can create their delicious honey. Did you know that bees honey tastes different depending on the plants that they have been pollinating? 
As well as honey, our farm grown blueberries are a key botanical in all of our gins. Bees have no difficulty extracting nectar from blueberry flowers with their long tongues. This is important because the corolla of the blueberry flower is bell-shaped. Nectar is secreted at the base of the flower, requiring an insect to push its tongue deep between the filaments of the anthers to reach it. Pretty cool huh!
We are already planning to introduce many more Hives to our orchards, so watch this space!
Now is the time to re-think about how we can relate to nature and what actions we can take as individuals to help the bees. So, we have put together a few simple examples to help get started today:
1.Plant a bee garden. Let a patch of your garden grow wild and plant bee-friendly flowers that will blossom at different times of the year. You don't need a lot of space to grow bee friendly plants — gardens can also be established in window boxes, flowerpots, and planters. 
2. Support local. Shop locally for food to support your community and where possible buy from sustainable earth friendly shops.
4. Install a bee hotel. Many bees are solitary and need a safe space to nest, rest and lay their eggs! See Beevive's guide to make your own solitary bee hotel from recycled and foraged materials at home
5. Create a bee bath. Outside you can leave a little dish of water with rocks for the bees to perch from or if you encounter a tired bee whilst out and about
6. Buy a Bee Revival Kit. These are perfect to keep on your keys so you can you can offer the pollinator a drink using your Bee Revival Kit to give the exhausted bee an emergency boost!
OUR FAVOURITE HONEY COCKTAILS
Ingredients 
50ml Penrhos Honey Spiced Rum
4 strawberries
tsp of honey
1 lime cute into quarters 
Handful of mint
Soda water
Into your glass add sliced strawberries, limes and mint. Muddle together to release juices. Add 50ml rum and tsp of honey and mix together. Add your ice and top up with soda. Garnish with lime and mint.
Ingredients
50ml London Dry
25ml Lemon Juice
20ml Honey Syrup (50:50 mix of honey & hot water, dissolve and let cool to add to cocktails)
This cocktail really is a celebration of our honey. Combine all ingredients into a cocktail shaker, shake well and strain into a cocktail glass for a refreshing tasty drink.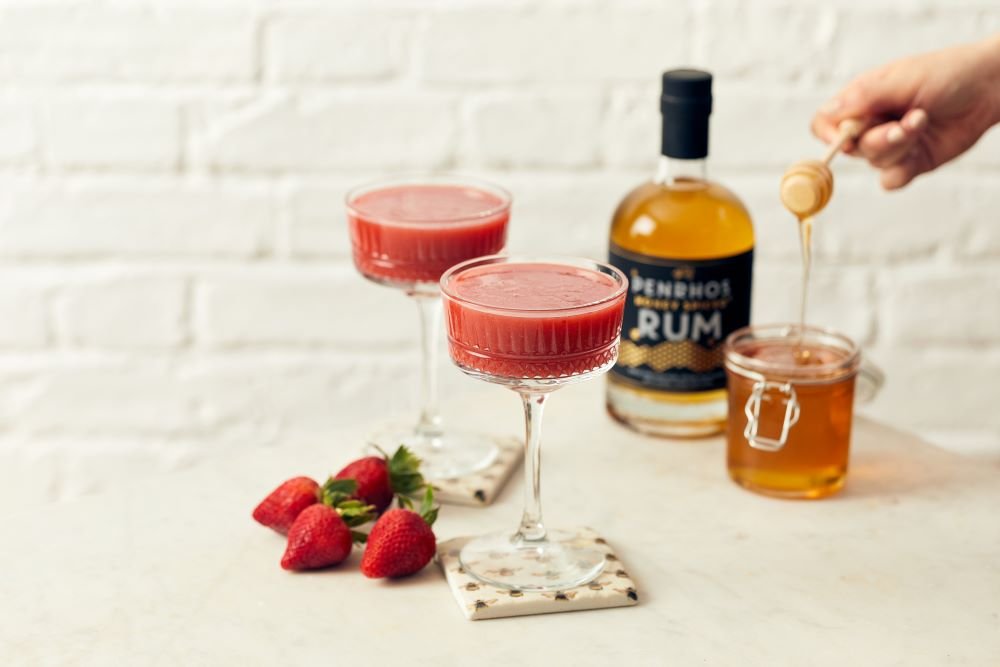 Strawberry  and Honey Daquiri
Ingredients 
50ml Penrhos Honey Spiced Rum
8 strawberries 
25ml Honey Syrup (50:50 mix of honey & hot water, dissolve and let cool to add to cocktails)
25ml Lime juice 
Into a blender add 50ml Rum, strawberries, honey syrup and lime juice. Blend until smooth, add a handful of ice and blend again. Pour into a cocktail glass and garnish with strawberries and mint.
Help raise awareness by sharing our article and post your own related videos or photos of your cocktails using the recipes below on your Instagram account with the hashtag #penrhosbees Don't forget to tag us @penrhosspirits & @beevive_uk